What is our icon?
What is our icon?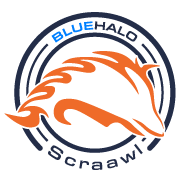 Contrary to popular belief, it's not a horse or a flaming dolphin. Our icon is actually a hedgehog! The inspiration for the choice of a hedgehog and the name came from the 11-year old son of BlueHalo's CTO, who imagined the hedgehog "craawling" through the social media space at lightning speed. And the rest was history!
Our Mission
Our Mission
-
-
-
The Scraawl data analytics suite provides actionable insights by listening, searching, extracting, and analyzing social media conversations, videos, and text corpuses.  Our advanced analytics leverage cutting-edge technology in big data, machine learning, natural language processing, and graph theory. Released in the summer of 2015, Scraawl is a stable and mature, fully supported, enterprise level, commercial analytics suite. Scraawl is gaining rapid acceptance in the social media analytics product space. Our business cases centers on helping brands and agencies understand their global audience, manage customer experience, improve public relations, drive strategic growth, and offer data support in crisis situations. With analytic capabilities on multiple data types and an ability to execute on desktops, tablets, and mobile devices, Scraawl provides all the analytics a user will ever need ─ at their fingertips, anytime, and anywhere.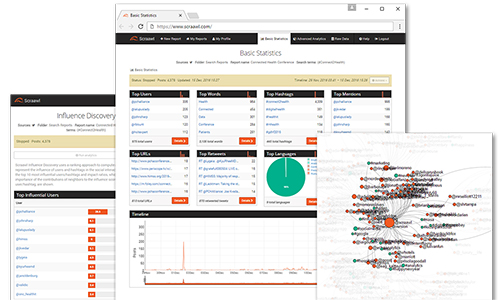 Like most products developed by BlueHalo, Scraawl started as scientific research in 2013 to address the specific analytic needs of customers in niche areas. Our CTO had the vision to combine the functionality of the various projects into one commercial software product. Scraawl has since grown into a full suite of analytical tools to meet the increasing industry demands for machine learning-based social, video, and text analytics. While we are no longer a research project, at the heart of Scraawl is still a merry band of scientists, researchers, and developers who are focused on producing the most advanced analytics tool on the market.
Who are we?
We're a multi-disciplinary team of developers, researchers, and data scientists. Collectively, we are all interested in creating new technologies that put theory into practice.
Why do we do it?
Call it a scientist's mindset – we may be developing our product for consumers, but we remain driven by an intellectual curiosity in what we can create and build.
What do we do?
We produce the most advanced and integrated analytics tool on the market, helping firms manage and monitor their brand messaging and reputation, and derive actionable insights from analytics.
What are our values?
Family comes first, teamwork rules, happy hours are a must, and always remember to have fun!

About BlueHalo
About BlueHalo
-
-
-
The Scraawl data analytics suite is a product of BlueHalo. The name BlueHalo speaks to who we are as a company, a global protective ring that shields everything we safeguard most, that unbroken line ensuring our customers retain the advantage in any battlespace, from high above the Earth to deep in Cyberspace.
It's who we are and who we want to be, a halo, a protector, the light of inspired engineering keeping our Nation safe. For more information about BlueHalo, please visit www.bluehalo.com/.