The spread of Coronavirus has caught the world by surprise and created a new reality for millions of people across the globe. During these unprecedented times, we witness phenomena never experienced before, like almost all flights being cancelled worldwide, millions of people being ordered to stay at home for extended periods, and countries closing their borders. Given the rapid increase of cases and deaths recorded due to COVID-19, social distancing and self-isolation have become imperative to combat the spread. This of course, creates a hard reality that many people have to face, which could take a toll on their mental health and well-being.
At the same time, we are lucky this is happening when many have the resources to work from home, stay connected with their loved ones, and keep informed about everything that is happening around the world. We used Scraawl SocL to look at the activity on Twitter during the early days of social distancing (the week of March 19th to March 26th) and found many positive stories as organizations and individuals stepped up to help people cope with the current situation.
Live Concerts from Famous Artists
In an effort to entertain and encourage people to stay home, famous artists around the world have been performing live from their homes and using the hashtag #TogetherAtHome to promote these concerts. We collected 100,000 #TogetherAtHome posts and found #SocialDistancing and #BreakCorona to be the other top hashtags showing a strong encouragement for people to stay home. The top mentions in the #TogetherAtHome posts were the activist group Global Citizen, artists Shawn Mendes and Camila Cabello, and the World Health Organization.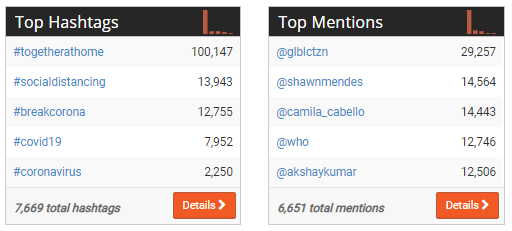 Looking at some of Global Citizen's posts, we see that they started the #TogetherAtHome campaign with the World Health Organization, and together they are partnering with many artists and organizations to promote it.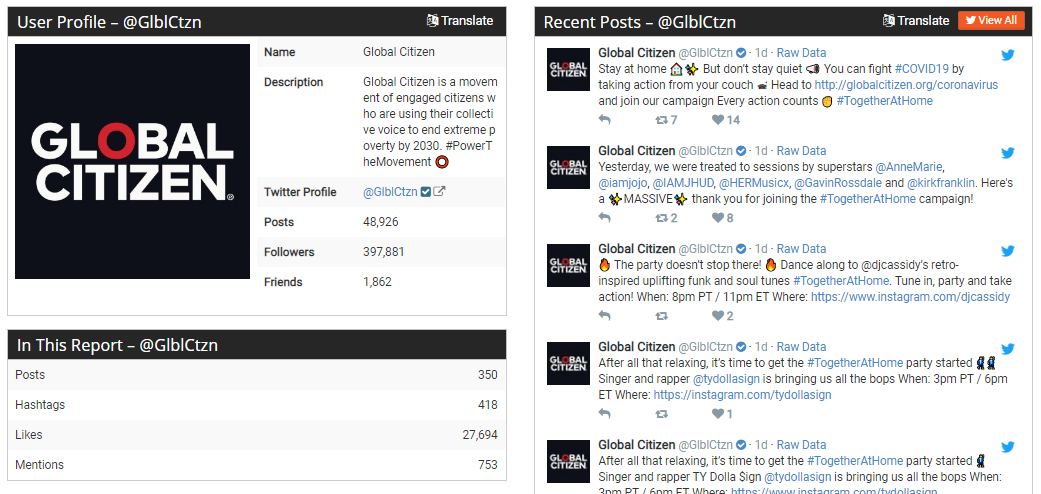 Virtual Tours of Museums
Although museums remain closed to avoid crowding, they have come up with innovative ways for people to admire and enjoy their collections. Museums have been offering virtual tours of their collections using #MuseumFromHome. We collected 14,879 #MuseumFromHome posts and found some of the biggest museums in the world being mentioned, including the British Museum, the National Gallery, the National Gallery of Art in DC, the Louvre, and MOMA.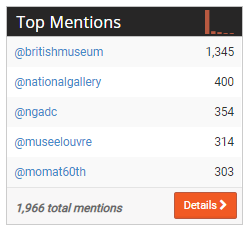 Looking at the Media Gallery for these posts, we see many beautiful photos of paintings and sculptures being shared.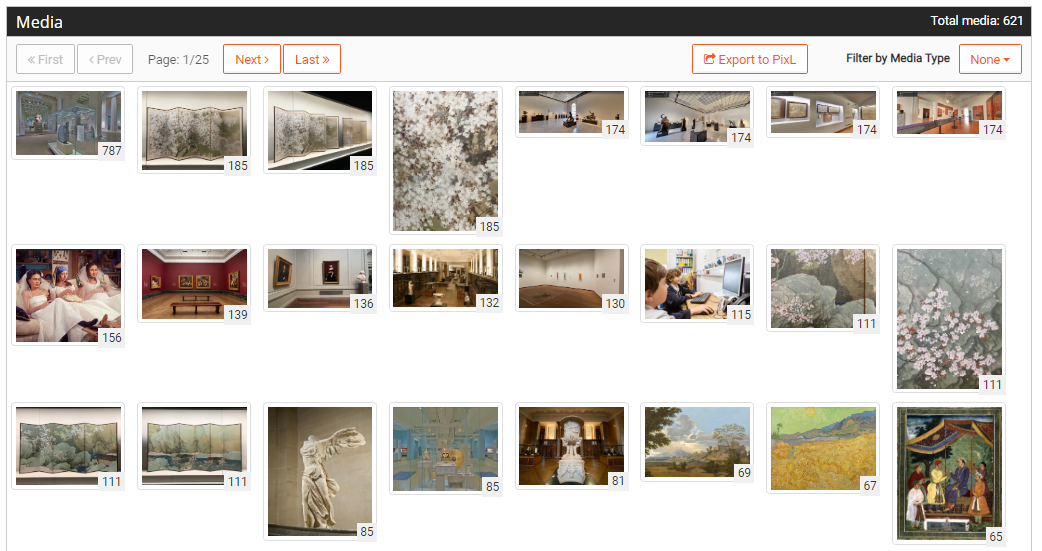 One of the commonly shared photos is the majestic Winded Victory of Samothrace, which is on display at the Louvre Museum in Paris. Viewing beautiful photos such as this one makes #MuseumFromHome the next best thing to being in Paris and admiring this statue in person!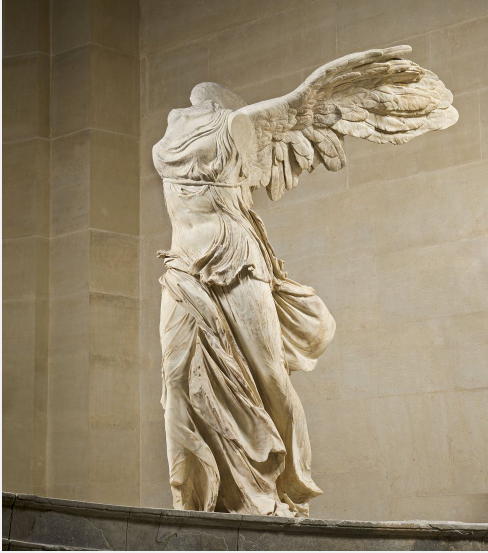 Working Out from Home
Staying at home for extended period of time can be dangerous for our health. It is important to maintain a healthy diet and exercise regularly. Many gyms and athletes have been providing videos for working out from home. We collected 19,264 posts using the hashtags #HomeWorkouts, #HomeWorkout, and Coronavirus Workouts and found over 4,500 URLs shared! That's a lot of workouts to choose from!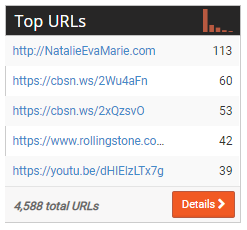 Looking into the details of the Top 50 URL Statistics, we see links to athletes' pages, articles about how to access online workouts, articles on the importance of staying active during this pandemic, workout playlists, and more.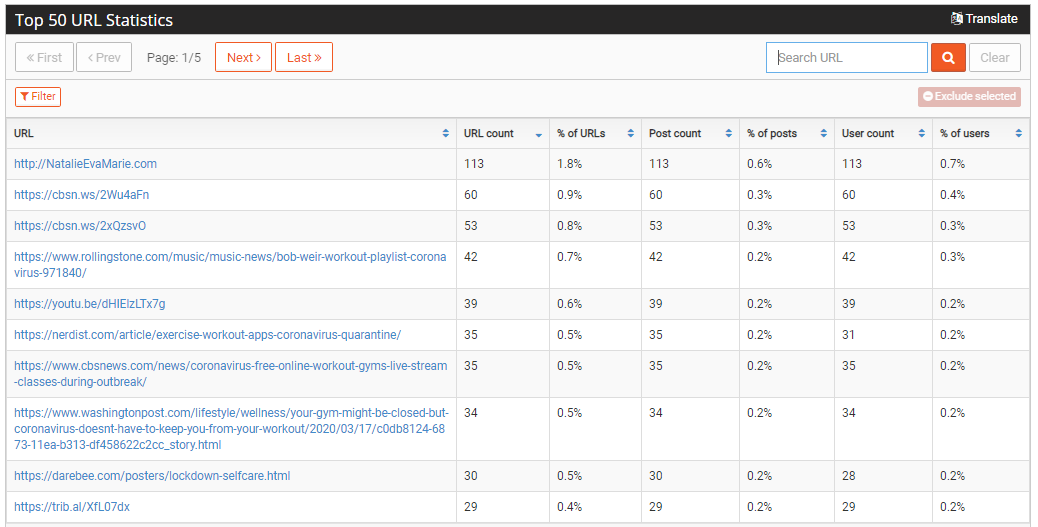 A very useful infographic by @Kathskth with tips for working out from home was shared 187 times. No excuses – Put on your gym clothes and start exercising!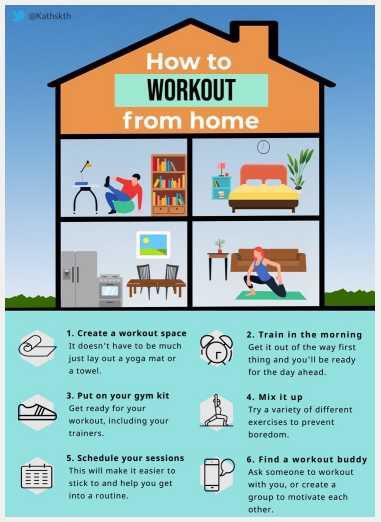 Motivational Hashtags
We also see many motivational hashtags to remind people that despite being alone at home, the whole world is together in this effort to slow down the spread of COVID-19.
We collected 31,189 posts using the hashtag #AloneTogether started by the media companies ViacomCBS and Ad Council. We see the use of #SocialDistancing in many of these posts as people continue to encourage each other to help flatten the curve.
The Top Mention for #AloneTogether posts is MTV. The MTV account has been prompting its followers to reach out with their feelings, and in return, @MTV has been responding with hand-written inspirational quotes to brighten their followers' days.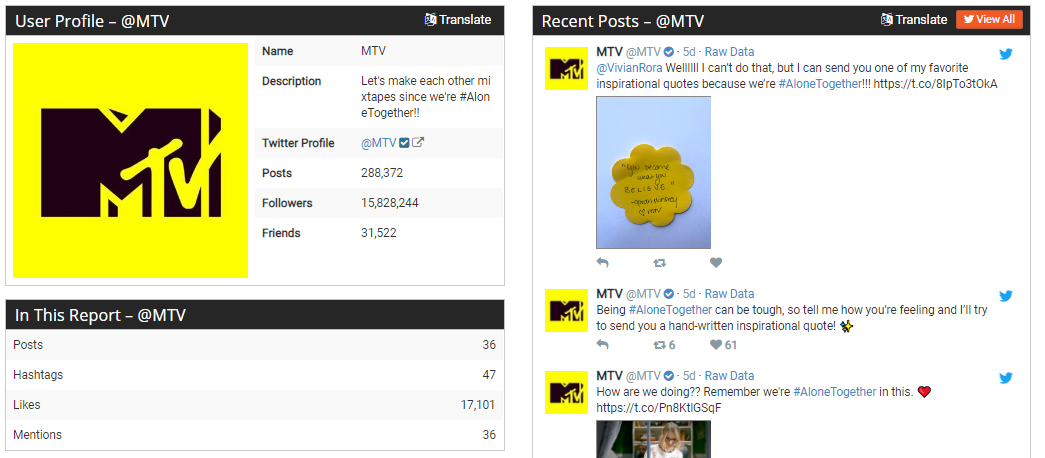 We collected 78,662 posts using hashtag #TogetherApart. These posts also show the "stay at home" theme through the use of the hashtags #SocialDistancing and #StayAtHome.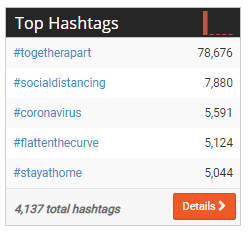 Looking at the named entities in these posts, we see the Centers for Disease Control and Prevention, and the White House at the top of the list.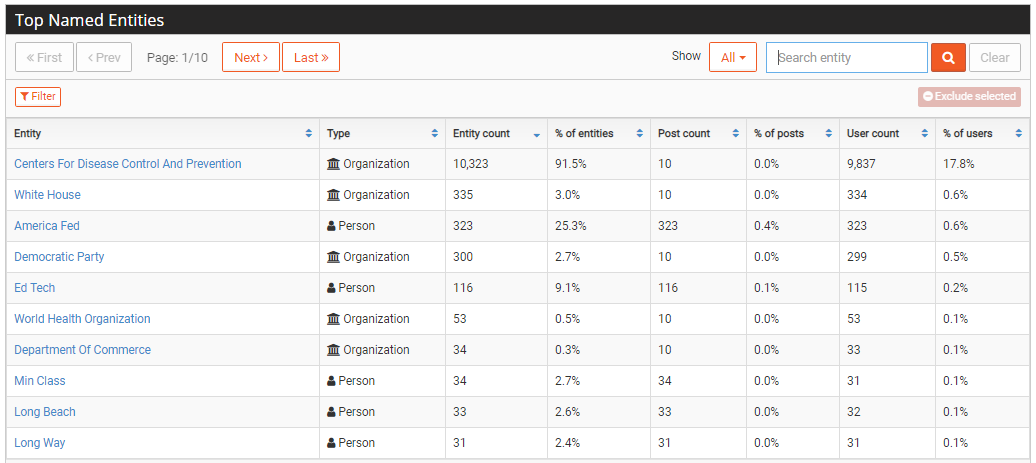 As prominent organizations use these hashtags, they help stress the importance of staying at home and doing our part to combat this epidemic, while maintaining the important sense of community that reminds us we are in this together.
These examples show how people are making the most of this situation and constructively using their time at home. Many other opportunities are springing up to provide entertainment and education for people at home. Famous chefs, magazines, and cooking schools have started offering free online tutorials and sharing recipes for people to try. Theaters and opera houses are streaming plays for free online. Others have begun learning sewing skills through video tutorials, and are giving back to the community by making face masks and donating them to people in need. The list of positive stories is long, and should serve as a source of hope for everyone who is struggling right now. Just remember to follow best health practices, stay at home, and stay connected, and we will get through this difficult time together and come out stronger than ever.