Since the last major release of Scraawl 2.0 in the Fall of 2016, the Scraawl team has been working hard on new features, new analytics, and usability improvements. We released several new features during the course of the year as beta (limited releases) to test user appetite and gather user feedback. Thanks to the overwhelming feedback and support we received from our user community (which is now in the thousands!), the Scraawl team is getting ready for a major release by the end of the third quarter.  As the team works furiously to get this release out, we thought we would give you quick preview of what's coming…
Feeds
Facebook is graduating from beta and users will have the ability to search and analyze public brand pages, groups, and events (including user comments). Facebook brand reports will allow users to compare and analyze reach, engagement, and other social metrics for multiple brands in one report.  News and Blog feed availability in Scraawl has grown exponentially. Millions of articles, from thousands of sources, in over 50 languages, from every region in the world are now fully indexed, searchable, and available for analysis with Scraawl's advanced analytics. A new real-time streaming capability (driven by a Kafka-based pipeline), with real-time alerts will allow users to stay current with any keyword, topic, or region of interest.
 
Scraawl's full collection of data feeds will include Twitter (with full-archive firehose access to posts since 2006), Instagram, Facebook, Tumblr, YouTube, and News and Blog feeds. For the bio-med research community, Scraawl will soon add PubMed as well – stay tuned.
Exciting New Features
Although Scraawl 3.0 will be loaded with many new features, we expect an all-time favorite to be Scraawl's full text search with Boolean logic to perform "Analytics as a Filter." Scraawl has always stood out from other tools by enabling the use of its analytics as filters.  In the past, this has been UI –driven, but in 3.0 that will be significantly improved! Built for the "power analyst," filtering by analytics will be as simple typing a Boolean expression in Scraawl's raw data search field. For example, once community, topic and sentiment analysis have been run on a data set, the following query can be executed on the Raw Data:
(Topic: 1 AND (Community:1 OR Community:2)) AND sentiment:positive) AND (Capitals OR Penguins)
This search will find all posts that belong to Topic1, posted by Communities 1 and 2, that have a positive sentiment, and contain the keywords Capitals or Penguins.  What previously took 10 clicks across multiple screens will now be reduced to a single query expression!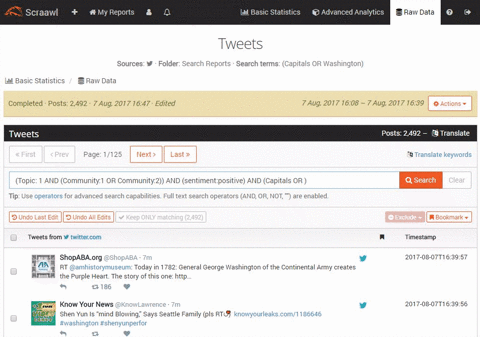 Scraawl's new Alert dashboard is probably going to be another favorite. The alert dashboard will provide users with a one-stop shop to set up alerts across all streaming reports, view pending alerts and those that have triggered, and drill down to view results in the corresponding search reports.  Users will also be able to share alerts with other users in their community.
Other new features and usability improvements include the ability to sequentially undo filters, one-click update of older reports, a search interface that is more forgiving to syntax errors, emoji search, translation capability for 107 languages (9 new languages will be added in 3.0), language translation embedded in more analytics, and improved image and avatar analytics.
Subscribe to our email Newsletter
Sign up for Scraawl news, tips & tricks, and latest blogs.
Don't worry, we never ever spam our listserv and we only email once a month.
Data Import and Export
Scraawl 2.0 already includes the ability to export data associated with analytics summaries into CSV, JSON, and XML formats. Scraawl 3.0 will enable export of entire analytics dashboards (with images) as a PDF report. Initially this will only be available for Twitter brand reports – with a click of button, users can automatically create and download a detailed brand report, with a complete set of analytics that compare brand social metrics related to engagement, reach, and impressions, and a summary of basic statistics associated with top users, words, hashtags, mentions, URLs, and locations. We anticipate full PDF export capability for all feeds and analytics to be available by the end of the year.
Scraawl 3.0 will also allow users to import user-curated social media datasets (gathered from other tools) into Scraawl, and explore these datasets using the full suite of Scraawl's advanced text, graph, geo-spatial, and image analytics.
Stay tuned for a more detailed release notes as well as tips and tricks for the new Scraawl 3.0 features.
Want to learn more?
Reach out with any questions or comments through our contact page. If you're interested in learning about pricing options, please visit our plans page. As always, the Scraawl team is available to discuss and demo the tool.
Until next time,
The Scraawl Team
Subscribe to our email Newsletter
Sign up for Scraawl news, tips & tricks, and latest blogs. Don't worry, we never ever spam our listserv and we only email once a month.
[/vc_row]