[UPDATE 5/9/17 – Carter Wilkerson has officially passed Ellen's selfie record of 3.4 million retweets. For his efforts and for setting a new record, Wendy's awarded him the prized nuggets.]
.@carterjwm is now the most retweeted tweet of all-time. That's good for the nuggets, and $100k to @DTFA. Consider it done. #nuggsforcarter pic.twitter.com/k6uhsJiP4E

— Wendy's (@Wendys) May 9, 2017
#nuggsforcarter
Carter's quest for free Wendy's nuggets is an inspiration to us all. If you haven't already seen his infamous tweet, it's a screenshot of Carter Wilkerson asking the fast food chain Wendy's how many retweets it would take to get free chicken nuggets for a year.
HELP ME PLEASE. A MAN NEEDS HIS NUGGS pic.twitter.com/4SrfHmEMo3

— Carter Wilkerson (@carterjwm) April 6, 2017
Carter and his undaunted response "Consider it done" have since gone viral, not just on Twitter but across news outlets. His tweet even garnered an appearance on daytime talk show Ellen.
Nugget boy is here today. You know what they say… keep your friends close and your Twitter competition closer. pic.twitter.com/PA9Vfu2tY3

— Ellen DeGeneres (@TheEllenShow) April 18, 2017
Ellen DeGeneres, by the way, currently holds the record for most retweets for this famous Oscars selfie that currently has 3.4 million retweets. He would have to surpass this record in order to clinch his golden nugget dreams.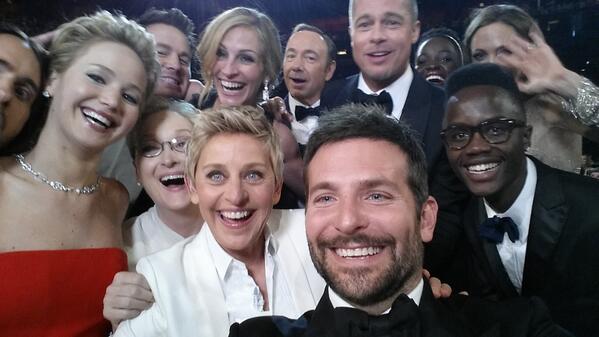 RIP Brangelina in the back. (source: Twitter, @TheEllenShow)
But wait, is this actually possible?
Not to make the record needle scratch but 18 million retweets is a lot. It may not seem like a huge number compared to the supposed 313 million active users on Twitter, but there are also an estimated 48 million bot accounts on Twitter and only 67.54 million active users in the US (though we know, Wendy's chicken nugget fans exist around the world).

(Source Statista and Twitter | About)
But Carter's quest does dovetail into a current debate raging on the Internet, the "Are bots taking over Twitter" debate or as it's more pessimistically referred to the "Is Twitter dying" debate? If there are currently 313 million active users, it would take 5.75% of that population to reach his goal. No one has ever broken above 3.4 million retweets. Unfortunately, Twitter isn't like YouTube, where you can press play over and over again on your favorite track to boosts its numbers.
Perhaps this CNN correspondent and former New York Times reporter is right:
Here's my cynical view. I hope I'm wrong about this. But I don't think there are enough active users on here to get Carter to 18 million… https://t.co/36PxxI0dch

— Brian Stelter (@brianstelter) April 8, 2017
While I can't end that debate, I can at least parse through the social media data to gain some insights into what could be for Carter.
Data Analysis
Yes, Scraawl is an immensely powerful and thoughtfully engineered data analytics tool– so of course we had to use the tool for analysis on Carter's social media quest for fried chicken. I ran an advanced premium search on the exact phrase "HELP ME PLEASE. A MAN NEEDS HIS NUGGS" and specified only retweets using the search operator is:retweet. Here's the snapshot from April 20th from 10:30am to 4:30pm EST.

Looking at Velocity
First I did a pulsecheck to see by looking at the velocity of retweets. We found that while there were days like on April 7th, 2017 where there were over half a million retweets, our streaming report that collects data in real-time, found that in most recent days he's only been getting 45k to 65k a day in retweets. The following graph illustrates the sobering reality of the number of reposts over time:
The truth is, there have been fewer and fewer retweets. Perhaps Carter has already hit a threshold on Twitter. At the rate of the last couple of days, let's say an average of 55,000 retweets a day, it would take Carter 269 more days to achieve his target number. Rough.
(18 mil – 3.2 mil= 14.8 mil / 55k per day ≈ 269 days)
Looking at Bots
But fear not, for at least we can say that the majority of the re-posts are legitimate. We ran a bot detection analysis on the posts collected. Most of the possible bot accounts were labelled "low risk." All except for this one bot account that at least makes it clear what it's about.
While many complain about Twitter bots, this is one example of using automation for good.
Looking at networks
I also took a look at the networks within the data set. Carter's tweet has gained support from impressive accounts like Amazon, Google, Microsoft, and Breaking Bad's Aaron Paul. Twitter itself has created a Twitter moment with a whole new emoji for him .
Get the sauces ready, #NuggsForCarter has 3 million+ Retweets. pic.twitter.com/ydLBtfK3Z3

— Twitter (@Twitter) April 18, 2017
You can see in the snapshot of the data, how an appearance on Ellen brought in a whole new group of people to retweet. The left cluster is a collection of @TheEllenShow interactions and the right is cluster is @carterjwm's group of interactions.
But even with all this support combined that's still only enough to get 3.2+ million retweet?
There's only one solution for this…
Be Bold, Carter!
The undeniable fact is that despite support across Twitter, news articles, AND a daytime talk show appearance — Carter only has 3.2 million retweets, 14.8 million retweets shy of his goal. He's already asked Wendy's if the number could be lowered and there's a good chance that regardless of hitting 18 million that Wendy's is going to award him for all the free promotion they've received in the meantime.
But we think Carter should keep trying to hit his goal! There are other daytime talk shows, not to mention nighttime talk shows he can appear on. He should also consider making a video imploring others to like his tweet, try a multimedia approach. It's not just free nuggs that are in the balance. By hitting 18 million, Carter could potentially prove the vitality of Twitter as platform, laying to rest that debate once and for all.
We're not going to do any takeaway lessons here yet. We're going to continue following any developments online and keep you posted.
So close, Carter! May the force of social media deliver you swiftly to your goal.
To run your own social media data report, sign up for a free Scraawl account today! There's no installation or credit card needed!